Must-try recipe: Hearty slow cooker chicken soup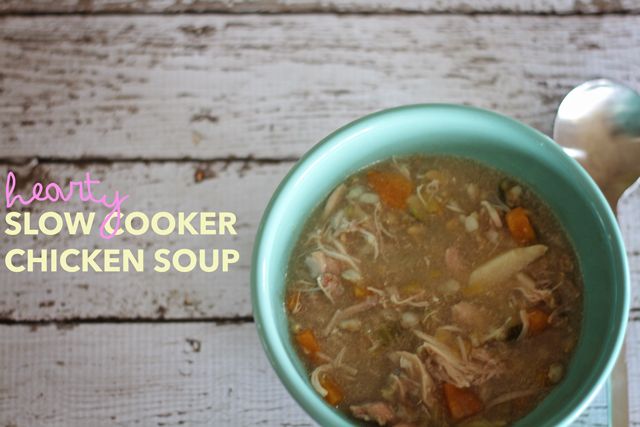 Do you ever go through stages of being really organised? I'm in the stage of being quite organised. I won't say really because you'd probably ask to see my wardrobe, or the pantry, or the garage… and well, they aren't any kind of example of organisation at all. But I feel almost on top of things. I'm meal-planning, I'm mastering my laundry pile everyday and my inbox isn't as chaotic as it sometimes can be.
The other night I thought I'd put on the slow cooker to make chicken soup so we had some for lunch the next day. I thought it could cook while we slept. I really was reach domestic goddess status. Until Hubby woke me up at 1am to tell me that all he could smell was chicken soup. Turns out, you kinda don't want to smell soup while you sleep. So I crept out, turned it off and then headed back to bed.
I did switch it back on in the morning, and it definitely satisfied at lunch time. I've been making this hearty chicken soup for a long time now, but this is the first time I've done it in the slow cooker. If you like a hearty soup that feels much more like a meal than a starter, this soup is for you.
Ingredients
1 leek, halved, washed, thinly sliced
1 large carrot, peeled, diced
2 sticks celery, diced
1 large zucchini, diced
1 small potato, peeled, diced
1 1/4 cups dry soup mix, rinsed
8 cups chicken stock
1 cup water
1kg skinless chicken lovely legs
Method
♥ Place everything into your slow cooker and cook on low for 6-8 hours.
♥ Once cooked, remove the chicken legs from the soup. Remove the meat from the bones and break up a little. Discard the bones. Place the chicken meat back into the soup, and stir to combine.
♥ Serve with bread and butter, or if you're being healthy… eat the soup by itself.
What's the state of your home right now? Organised? Or slightly chaotic?